Find a Class in Cambridgeshire
Day / Area
Tuesdays – Cambridge
Age Group / Time
Age 2-4  10:00-11:00
Address
The Emerald Building, Signal Box, Glenalmond Ave, CB2 8DB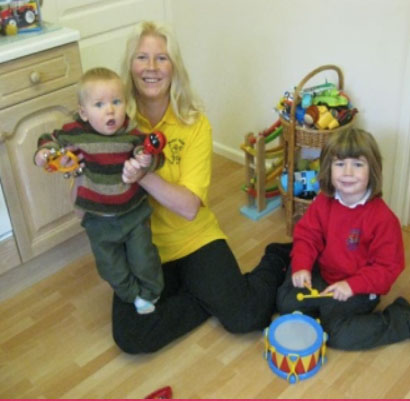 Claire Ludlam 01954 204060 / 07866 373108 or click here to contact Claire by email
CLAIRE LUDLAM gained a BEd (Hons) in Music and Education from Homerton College, Cambridge in 2004. Her principal instruments are the Piano, Violin and Voice and she also plays flute, recorder and guitar. She has worked as a Music coordinator in Willingham Primary School and most recently at Fawcett School where she was also assistant Headteacher. She has directed musicals and been responsible for choirs, bands, and percussion, recorder and guitar groups in her school career. She also introduced drumming and saxophone lessons and a hand bell ringing group. Claire also teaches piano, violin, guitar and recorder and has three "little people" who have all attended Music for Little People classes in Cambridge with Karen Dickinson
Music for Little People is one of the most precious treasures of Cambridge.  Our lovely Tuesdays in your kind and warm classes, will be part of Guilherme's memories.
Many thanks, Leila and Gui – Cambridge
My daughter has got so much out of these classes. We've been going for a year and she knows all the words and actions to the songs – and she loves it! The classes are really well-organised and have a variety of activities to keep the children interested. Highly recommended!
Elizabeth – Buckden
I took my little boy, Alexander, (17 months old) to MFLP today and we both really enjoyed our first class. We will be returning next week for some more fun! We loved all the songs and look forward to learning all of the actions. The class had lots of variety and included time to play with some musical toys too. Would recommend MFLP.
Samantha – Buckden
Both of my children have been to these classes from a few weeks old and have loved them. There is a good mix of structured activities and free-play. Now 2, my daughter now loves to sing along.
Sally – Cambridge
Both of my children have been to these classes from a few weeks old and have loved them. There is a good mix of structured activities and free-play. Now 2, my daughter now loves to sing along.
Sally – Cambridge
I have been taking my daughter, Poppy (2 Years) to MFLP for about six months now and we absolutely love it. We both love learning the songs and actions and often sing them on the car journey home. As the weeks have progressed I have noticed that Poppy will tap along to songs in time to the music, sessions have also helped in her learning words such as helicopter, sounding out each syllable as part of a rhythm. Poppy often gathers up her dolls and teddies and holds little music classes for them, sitting them in a circle and singing the songs from the week's session, she always ends by offering them a sticker!
Jose – Cambridge
I have been taking my son to MFLP classes in Buckden for about 6 months and he really enjoys them. He started aged 2 and understands the format, which is broadly repeated each week. He has picked up the songs and whilst he is still shy in class, loves making us all do the hokey cokey in the living room at home! My daughter also went to Karen's classes while at Buckden Day Nursery and loved them. She was soon teaching me new songs and actions and particularly liked to practice what she had learnt running round madly on our trampoline. I went to Monkey Music classes in London which were great too, but Karen's classes are more relaxed and friendly and, since they are an hour long, she breaks up the singing with free play with instruments and the children dance and run about to keep them interested. Thoroughly recommend it!
Amy – Buckden
Other Services
Birthday Parties
A Music For Little People Birthday Party is an ideal way of entertaining your child. A Music For Little People Teacher will come to your home or a location of your choice and provide fully interactive songs and finger plays. We also bring a large box of exciting percussion instruments for the children to "make a band" and other colourful props are used. Traditional party games can also be included and a small "musical" gift is provided for the birthday child. The entertainment can be themed – typical themes are "teddies"; "trains"; "mini-beasts" etc.
"I just wanted to thank you again for making Zoe's birthday party really special. She absolutely loved every minute of your entertainment! The other parents all commented on how good they thought you were."

Alison
Music for Preschools and Nurseries
Music For Little People can also provide a wide range of music services to pre-schools.
Teachers can visit your premises for a one off session or can provide weekly classes.
"We have had Karen and Music for Little People in our nursery now for several years. Karen's classes captivate the children with varied songs, beats and rhythm. From the shyest to the most confident child, each lesson develops language and creativity, and each class is eagerly anticipated by the children. When we got our second nursery we introduced MFLP and have seen the same outcomes. I would not hesitate in recommending these classes for nurseries."

Jane, Director of Buckden Day Nursery & Ramsey Day Nursery.
Music For Little People also provides children's entertainment for corporate events and parties. Over the past years these have included Embassy Christmas parties and community parties.
Contact Us for further information.